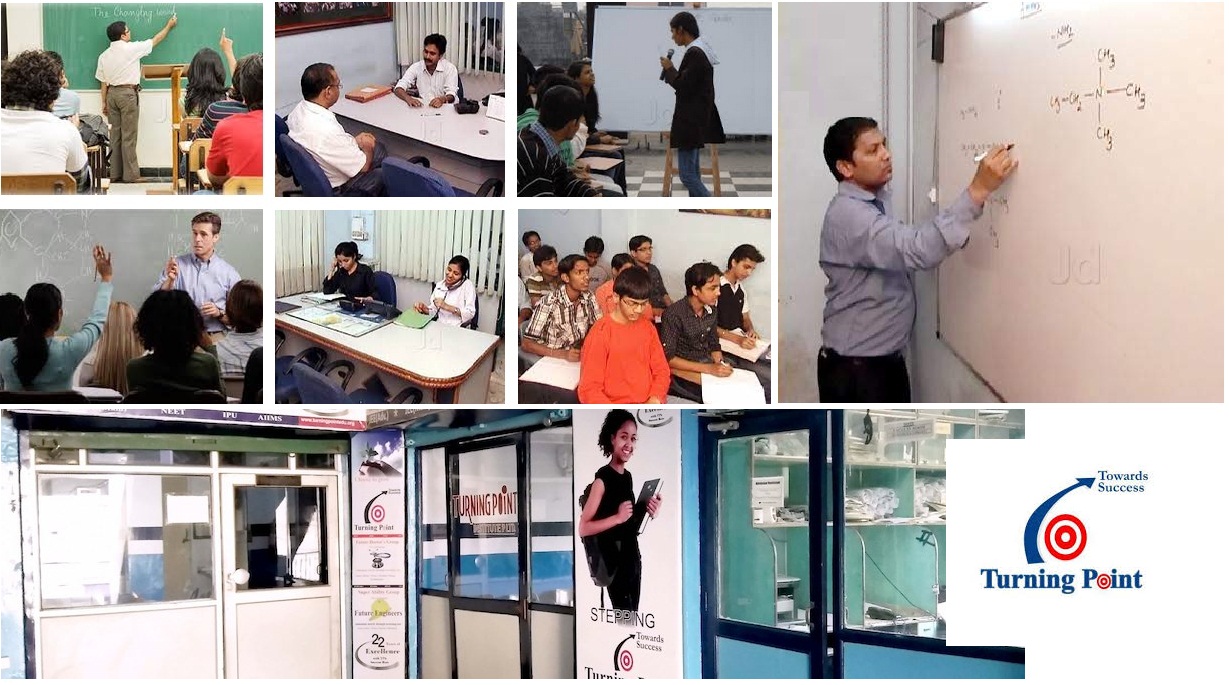 Turning Point Institute began in 1994 under the trademark "TP Turning Point" with a group of experienced teachers joining hands and working towards a common vision to provide students with a platform from which they can spring towards success. We have imparted quality education to thousands of students, who, over the years, have benefitted not just in terms of academics by achieving high percentage in board/school exams and cracking medical and engineering entrances with a success percentage of 77%, but also towards building their future.
Turning Point Institute offers preparatory classes for IIT- JEE, AIEEE and PMT aspirants along with Board examination preparation for science students, and foundation courses for 9th and 10th classes.
Turning Point Institute provides classroom coaching; correspondence courses; online testing; test series; admission guidance; campus coaching; transport and hostel facilities, etc. These services are available to students of Classes IX to XII for subjects like Math, Science, English, Physics, Chemistry and Biology to prepare them for Engineering and Medical Entrances exams. Turning Point Institute conducts tests which are created by ex-IITians and medicos covering all latest patterns, including unique and newly designed questions. The Online Testing facility, aims at providing an online mode of studying for students facing constraints of distance.
Turning Point Institute has tie-ups with various schools in Delhi, Jharkhand and Haryana to assist students to gain admission into such schools, to choose their desired stream of study after class X, and to provide career counseling to students in classes IX to XII. Turning Point Institute was also invited by NTPC Ltd., New Delhi during 2009-2010 for providing career counseling to students of classes IX to XII. Not just limited to admission guidance, Turning Point Institute maintains an association with various schools across the country for its campus coaching facility as well, which is conducted within the premises of such schools, during or after school hours. Under this programme Turning Point Institute also provides scholarship to young students.
Turning Point Institute is the first institute in India to offer coaching programmes in association with universities in relation to medical and engineering entrance examinations. It refers to its association with the Muslim Social Uplift Society (MSUS) in 2006-07, and Coaching and Guidance Center of the Aligarh Muslim University in 2007-10 in this regard.
Turning Point Institute has been granted the CSR Trophy for Excellence in Coaching for the year 2012 by the renowned publication "Competition Success Review". It has also launched an "Inter School Intelligence Contest" in Delhi, where various schools participated and got wide media coverage – in prominent newspapers including Asian Age and Deccan Chronicle regarding their model papers for class X and XII board exams as well.
Turning Point Institute has undertaken pro bono activities by establishing a registered society under the name TURNING POINT EDUCATIONAL SOCIETY (TPES) in 2006 for granting scholarship to under privileged children, and has also made donations to schools such as Kamal Public School, New Delhi for the welfare of students.
Vision: Knowledge and information are of use if put to application. Almost in every community, it is observed that what we have been taught in our schools is only do well for writing and qualifying exams. Very few percentage of learner are actually taking it beyond exams and applying in day to day life for own and common social cause. This state must change. We are trying by heart and mind and definitely believe, we can, at least in the field of science.
Mission: Wisdom of our student should be more than the text written in books of science.