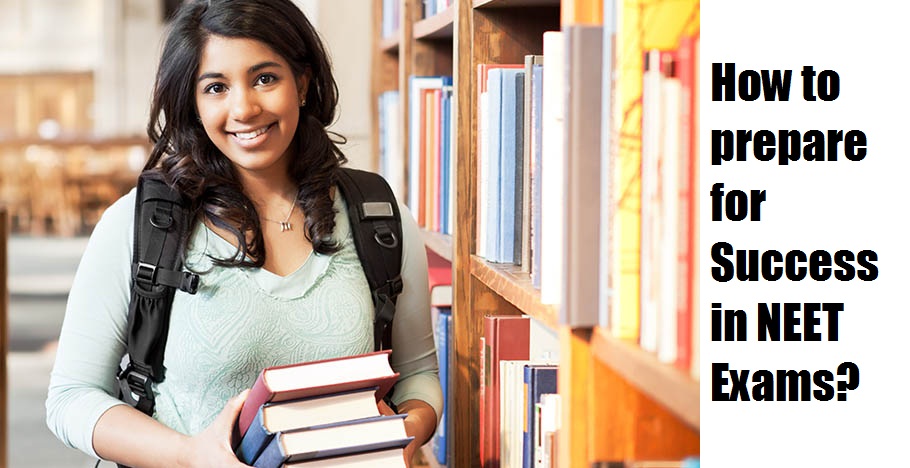 I am glad that you are here on this page. It is a matter of utmost satisfaction that my 30 years long experience is going to guide you, about how to plan and prepare for the upcoming NEET exam to succeed!
We all are science student so definitely our approach should be scientific. Can we plan to destroy an enemy target without having complete knowledge about target and no real time information around? Answer is big no!   So let's have information on hand.
NEET OVERVIEW
THERE ARE 180 SINGLE CHOICE OBJECTIVE QUESTIONS. 90 FROM BIOLOGY, 45 FROM CHEMISTRY and 45 FROM PHYSICS.
TOTAL MARKS 180*4= 720. (4) MARKS FOR EACH CORRECT ANSWER AND (-1) FOR EACH WRONG ANSWER.
TOTAL TIME =3 HOURS
MINIMUM AGE 17 YEARS and MAX AGE 25/30 for UR/ RESERVED  respectively
No LIMITATION TO NUMBER OF ATTEMPTS.
QUALIFYING MARKS IN XII CLASS (50%) FOR UNRESERVED AND (40%) FOR RESERVED.
NEET FACTS
THERE ARE APPROX 12 LAC STUDENTS APPEARING FOR THIS EXAM.
STUDENT WHO IS GOING TO SCORE 575 OUT OF 720 IS GOING TO GET A SEAT IN GOVT. COLLEGE IN UNRESERVED CATEGORY AS PER RECENT STATISTICS.
475 OUT OF 720 IS SAFE FOR A SEAT IN GOVT. COLLEGE IN RESERVED CATEGORY AS PER RECENT STATISTICS.
QUALIFYING NEET EXAM MEANS IS NOT AN ASSURANCCE OF ADMISSION IN GOVT.MEDICAL COLLEGE.
POINT NO 2 AND 3 ARE KEPT ON CHANGING BUT REMAIN NEAR BY.
ANALYSIS
From above information it is very clear that even qualifying does not mean selection in Govt. medical college. One has to score marks 575+(safe for general /obc category) or 475+(safe for sc/st category). Thus we have to plan our study accordingly. A table is going to disclose how to obtain such marks to be safe. Scoring more is also possible and students are able to do it but strategy remains same, only accuracy becomes higher.
To score 575 marks for GEN/OBC
NO. OF QUESTION  ATTEMPTED
NO OF QUESTION CORRECT
MARKS FOR  CORRECT
ACCURACY %
NO OF INCORRECT QUESTION
MARKS DEDUCTED
TOTAL MARKS
REMARK

144
144
576
100
0
0
576
SAFE
150
145
580
96.6
5
5
575
SAFE
155
146
584
94.1
9
9
575
SAFE
160
147
588
91.8
13
13
575
SAFE
165
148
592
89.6
17
17
575
SAFE
170
149
596
87.6
21
21
575
SAFE
175
150
600
85.7
25
25
575
SAFE
180
151
604
83.8
29
29
575
SAFE
140
140
560
100
0
0
560
ok
140
135
540
96.4
5
5
535
risky
How to score in NEET?
If you score less than 140 correct answer , your chances are very low
If you attempt 145-155 questions, your accuracy % should not be less than 95%
If you attempt 155-160 questions, your accuracy% should not be  less than 90%
This table reveals that 170-175 question should be attempted with more than 85% accuracy to be safe and to have higher rank with more than 90% accuracy.
Important Questions you need to ask yourself —
What rank you want?
What is your speed for doing numerical of physics and chemistry?
Are you accurate more than 95% in biology?
Can you manage to solve 40 questions of physics in 60 to 80 minutes?
Can you solve 40-45 questions of chemistry in 50 to70 minutes?
Can you take 90 questions of biology in 50 to 60 minutes?
Which subject you like most?
Are all three subjects equally prepared?
Answer of these questions will be input to decide where is your strength and weakness?  This information will prepare your exam strategy!
Strategy for NEET!
Before exam strategy, let me tell you few words. I have seen many students (in thousands) getting through these exams and securing good ranks due to our (teacher-student) hard work and their sincerity to accept my guidance whole heartedly. The one who were extraordinary but unguided could not meet the target. Dear young friends, now please go through what we teacher feels to suggest you for different subjects.
Biology
When any of you thought to become doctor, it is all due to your love towards biology. Isn't true? Of course yes! I suggest you to love biology reading and studying so deeper as if you understand micro fundamental and learn information by heart .Better biology means better college and so you become better doctor. Can you prescribe 5 medicines to cure a disease if it is curable by a single medicine just for the sake of any other reason? Certainly Not. Here is the point. Study NCERT biology in detail. Revise it twice. It should be done word by word of each Para of each page. Out of 90 nearly 81(90%) is from this book only.  You are advised to go through notes of teacher for extra knowledge, if any. Proper revision routine must be followed. Do questions; recognize your strength and weakness. Sharpen the strength and win over your weakness.   If your chemistry and physics are up to the mark along with your biology then for additional knowledge in biology please go through other books for selective portion else work on physics/chemistry.
Chemistry
This subject as its name requires chemistry of skills .it need analytical +computational+ high level memory skill. Definitely you should remain in the boundary of NCERT syllabus but for more deeper understanding go through books of chemistry written for JEE and NEET. For physical chemistry solve a lot of numerical in each chapter to be master on each topic. Never ignore even a single doubt. After removal of each doubt, chapter's concept must be revised and visualized. Organic chemistry should be given serious attention. You can understand organic very well if you inspire yourself to do lot of question on reaction and conversion basis. Always prepare organic from JEE point of view. Generally student ignore inorganic chemistry .And this creates a difference between success and failure. Work very hard and take help of very good teacher .Do as many questions as possible and always memorize answers. Leaving any question undone may lead to a big barrier in your path.
Physics
It is a subject of common sense.  You have mathematics as a subject or not, it does not change for you. Physics will corner you until you acquire minimum skill of maths. A good physics teacher will prepare you provided you have. We all know pulling a roller is easier than pushing .So it is all about the way you study .Out of 45 only 10 (maximum) questions are really very difficult. A very good physics teacher is key to unlock your entry in medical college. Studying physics own self is very time consuming and can lead to increase your irritation. So find one and follow him wisely .By all means you should be capable to solve 30 questions (minimum) accurately if physics is your weakest link.
For this I am dividing physics as below in compulsory and optional sections——
Compulsory sections —  i) vector, differentiation ,integration ii)kinematics iii)laws of motion ,friction,       work-power-energy, collision  iv)  oscillation, waves-sound  v)electrostatics, electric current
Optional section———-i) rotation, gravitation ii) properties of solid, fluid at rest ,fluid in motion, surface tension iii)heat, thermal properties, thermodynamics,  transfer of heat, kinetic theory iv)magnetic effect, magnetism,  emi  and alternating current  v)wave- ray optics vi)modern physics
Fundamental concepts of chapters in compulsory section are used in solving questions of optional sections. Only (14-17) question are generally asked from compulsory section and (4 to 6) from each section of optional section. Students are advised to do 4 out of 6 optional sections in detail. This suggestion is not for everyone but for those who are not doing very well in physics.  One who can take physics head on; please do every section in much detail and develop habit of bypassing very time consuming question to solve in last if time is in hand.
Ensure SUCCESS in NEET Exams

Dear future doctors, now please have your answer of questions asked earlier. You may have prepared your subjects very well. Now we need to understand the various ways to attempt minimum 147 correct answers. We believe out of 12 (4+4+4) guess works 3 correct and 9 wrong this leads to 150 correct. If all 12 wrong /right, we have (147-162) as net correct answer.
Bio—80(+)4 chem—35(+)4          phy—35(+)4       total—147-162
Bio—70(+)4 chem—40(+)4          phy—40(+)4       total—147-162
Bio—85(+)4 chem—40(+)4          phy—25(+)4       total—147-162
Bio—85(+)4 chem—25(+)4          phy—40(+)4       total—147-162
Bio—86(+)4 chem—32(+)4          phy—32(+)4       total—147-162
Bio—75(+)4 chem—40(+)4          phy—35(+)4       total—147-162
Bio—75(+)4 chem—35(+)4          phy—40(+)4       total—147-162
To get selected with a rank or to have confirmed seat in Govt. medical college, in desired course, there is need of rigorous work. You have prepared well and writing paper without exam strategy may go in your favor or may not.
"With this I would like you to collimate all your focus at this very time and start channelizing your potential in the right direction. This crucial time is the bridge for your most proximal dream of being a doctor. Keep visiting our site for more such digests to analyze your progress and go ahead with a great gusto".
Regards
T.N. Chowdhary
Managing Director
Turning point Institute pvt.ltd.