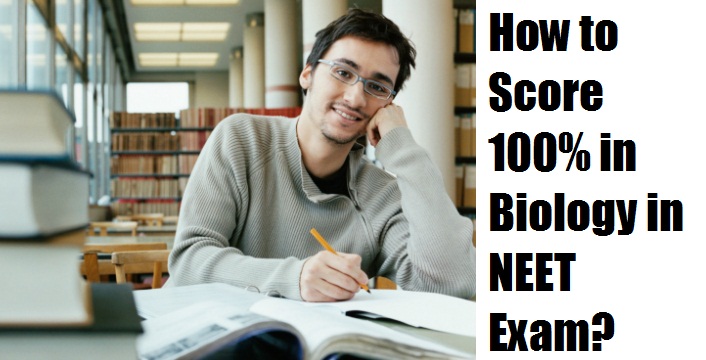 NEET or national entrance eligibility test is one of the most followed one where around millions of aspirants appear ever year and prepare for it. The irony of the exam is that despite of being acquainted with the fact that the govt. Seats are very much analogous to a single drop of the entire ocean, but still the zeal to be a doctor keeps on driving students like you and that's why you are here at this post. So let's get started!
Biology Chapter wise Weightage (in %) for NEET 2019
Class XI

Unit

Topic / Chapters

percentage*

I

Diversity of Living Organisms

14%

Chapter-1: The Living World

Chapter-2: Biological Classification

Chapter-3: Plant Kingdom

Chapter-4: Animal Kingdom

II

Structural Organisation in Plants & Animals

5%

Chapter-5: Morphology of Flowering Plants

Chapter-6: Anatomy of Flowering Plants

Chapter-7: Structural Organisation in Animals

III

Cell: Structure and Function

9%

Chapter-8: Cell-The Unit of Life

Chapter-9: Biomolecules

Chapter-10: Cell Cycle and Cell Division

IV

Plant Physiology

6%

Chapter-11: Transport in Plants

Chapter-12: Mineral Nutrition

Chapter-13: Photosynthesis in Higher Plants

Chapter-14: Respiration in Plants

Chapter-15: Plant – Growth and Development

V

Human Physiology

20%

Chapter-16: Digestion and Absorption

Chapter-17: Breating and Exchange of Gases

Chapter-18: Body Fluids and Circulation

Chapter-19: Excretory Products and Their Elimination

Chapter-20: Locomotion and Movement

Chapter-21: Neural Control and Coordination

Chapter-22: Chemical Coordination and Integration

Class XII

Unit

Topic / Chapters

Weightage

VI

Reproduction

9%

Chapter-1: Reproduction in Organisms

Chapter-2: Sexual Reproduction in Flowering Plants

Chapter-3: Human Reproduction

Chapter-4: Reproductive Health

VII

Genetics and Evolution

18%

Chapter-5: Principles of Inheritance and Variation

Chapter-6: Molecular Basis of Inheritance

Chapter-7: Evolution

VIII

Biology and Human Welfare

9%

Chapter-8: Human Health and Diseases

Chapter-9: Strategies for Enhancement in Food Production

Chapter-10: Microbes in Human Welfare

IX

Biotechnology and its Applications

4%

Chapter-11: Biotechnology – Principles and Processes

Chapter-12: Biotechnology and its Application

X

Ecology and Environment

6%

Chapter-13: Organisms and Populations

Chapter-14: Ecosystem

Chapter-15: Biodiversity and its Conservation

Chapter-16: Environmental Issues

Total

100%
Having  seen  that   you  might  have  got  the  basic  idea  that  on  an  average  any  chapter  here  can't  really  be  exempted.
Following that here are few tips to be followed thoroughly for NEET:
C.E.R.T. must be the mainstream book .You need to invest most of the initial days of your preparation in understanding all the concepts presented in this book.
Once you are done with that, be very much consistent with this habit of studying NCERT and making notes alongside and this practice needs to be followed the entire session.
Refer to a reputed publication which contains revised and compact study material in order to proliferate the basic ideas of what you have imbibed through NCERT.
Take a regular follow up of all that you have learned by doing multiple choice questions on a daily basis.
"NCERT + A revised edition + Good notes and MCQ" regularly are the key mantras to crack this exam.
Be very much regular and consistent with your preparatory routine students as it will start constructing a good aptitude in your style of solving questions with more accuracy and negligible or no negative marking.
NEET Biology syllabus is very vast and detailed so try to cover each and everything with a rational pace so that you get multiple times revision opportunity. The most important demand is to avoid negative marking in the exam and for that your strategy must be smart enough that while doing the questions your answer should already be there in your head, so that you just need a reassurance from your options to have a proof reading of your answer just like your DNA does each time while doing the central dogma!
Going through the recent statistics, the number of seats in govt. medical colleges have been increased and parallel to it the age criteria for the exams also doesn't exist any more. So it's a clear cut throat competition where several multitude verticals of yours are required to be the one who got the seat .
Try to understand the subject in detail so that at the end while solving practice papers your time is saved for attempting more and more mock tests. These tips will add dimensions in your preparations, whether you belong to 12th or have dropper your session for the exam.
Follow all these tips on regular basis as this domain seeks regularity with your smart strategy more than anything else.
I hope you like this article and it will help you to get through the exam to mould your dream into reality of entering into this medical profession as THE HIGHEST ENTITY – "DOCTOR".
For more such articles keep visiting our page. We would love to serve you in our best way possible.